Bengaluru
endurance run 2022
trail run in a private resort
Bengaluru Endurance Run happened at Banjara's Manthan – a private resort with trail through a mixed orchard of goose berries, mangoes and custard apples.
The trail is a 600 mtrs loop with near zero elevation, slight sand and gravel at places.
The format of the event is to cover as much distance as you can within the timeframe of the chosen category.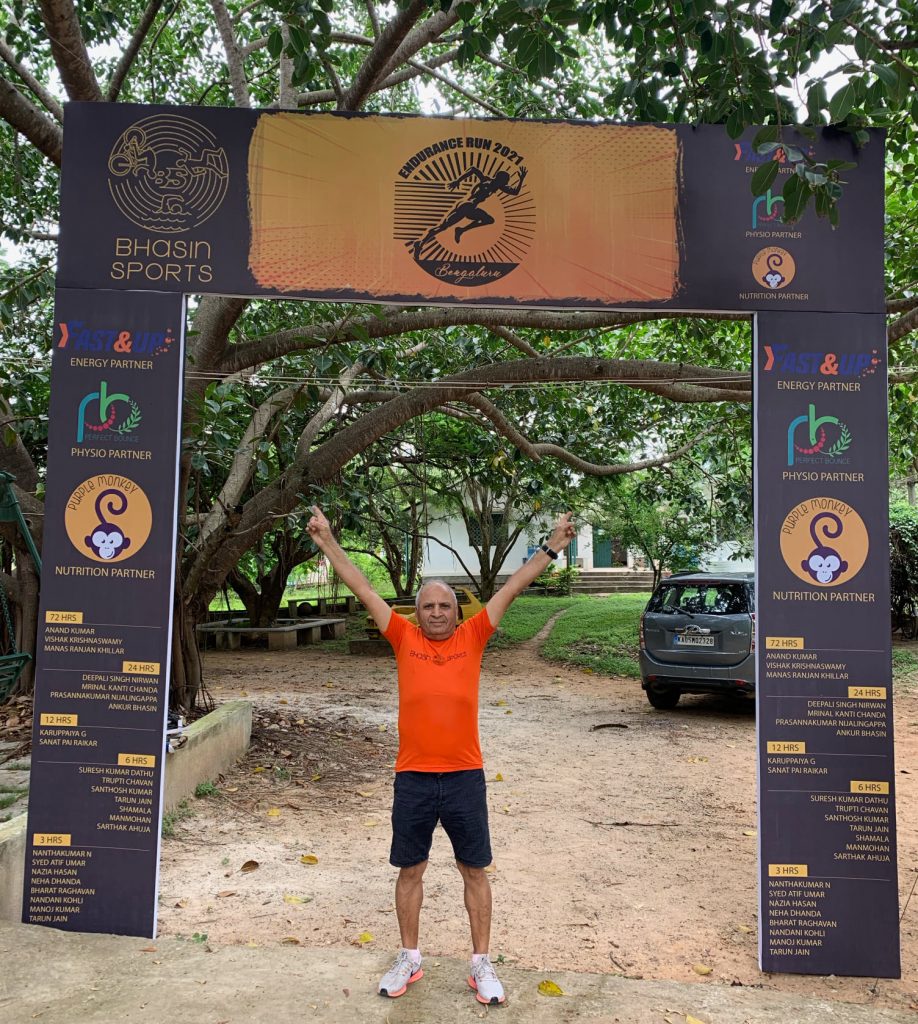 quick facts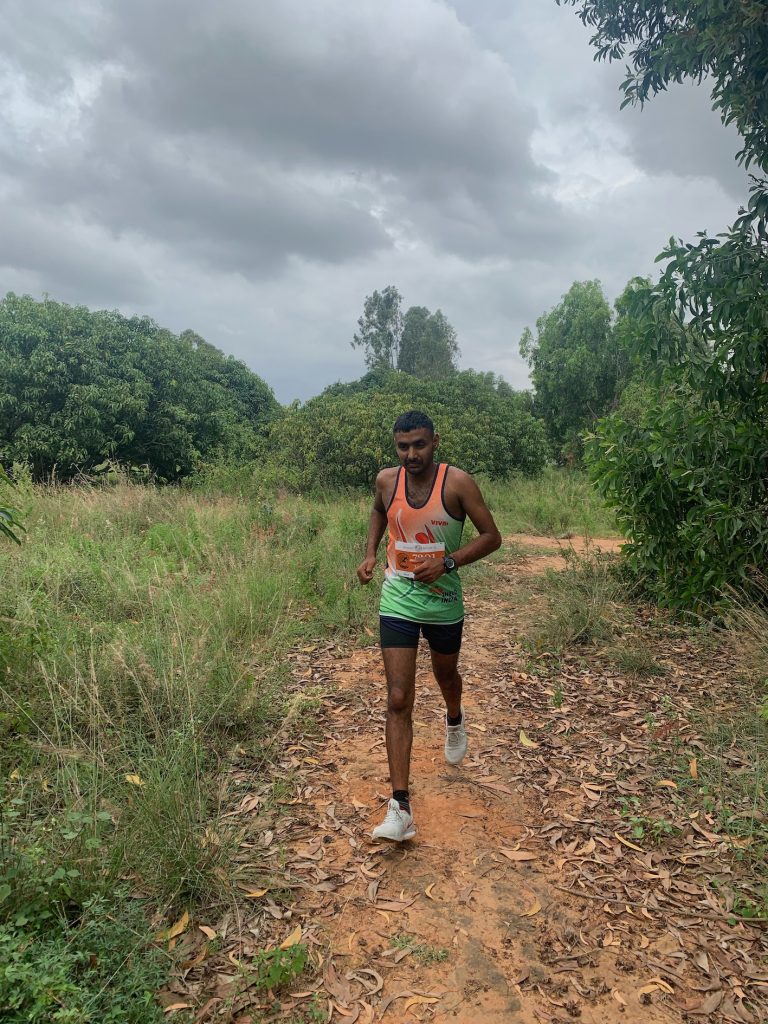 categories
3Hrs, 6hrs, 12hrs, 24hrs, 48hrs, 72hrs
Partners
RESULTS
72 Hrs
| Bib No | Name | Gender | Laps | Distance (Kms) | Category Rank | Overall Rank |
| --- | --- | --- | --- | --- | --- | --- |
| 72K01 | Mrinal Kanti Chanda | M | 405 | 243 | 1 | 1 |
| SPOT4 | Lakhan Lal Meena | M | 276 | 165.6 | 2 | 2 |
48 Hrs
| Bib No | Name | Gender | Laps | Distance (Kms) | Category Rank | Overall Rank |
| --- | --- | --- | --- | --- | --- | --- |
| 48KA01 | Sudarshan MK | M | 370 | 222 | 1 | 1 |
| SPOT5 | Ram Sajeewan Anuragi | M | 357 | 214.2 | 2 | 2 |
| 48KB01 | Satya Prakash Singh | M | 357 | 214.2 | 3 | 3 |
24 Hrs
| Bib No | Name | Gender | Laps | Distance (Kms) | Category Rank | Overall Rank |
| --- | --- | --- | --- | --- | --- | --- |
| 24KB01 | Vinodh Sivaraman | M | 219 | 131.4 | 1 | 1 |
| 24KC01 | Prasannakumar Nijalingappa | M | 151 | 90.6 | 2 | 2 |
| 24KC02 | Balakrishnan Sadasivam | M | 150 | 90 | 3 | 3 |
| 24KA02 | Vijay Pandey | M | 128 | 76.8 | 4 | 4 |
| 24KA03 | Sweta Khandelwal | F | 46 | 27.6 | 1 | 5 |
| 24KA01 | Ekta Awachar | F | – | – | DNS | DNS |
12 Hrs
| Bib No | Name | Gender | Laps | Distance (Kms) | Category Rank | Overall Rank |
| --- | --- | --- | --- | --- | --- | --- |
| 12B02 | Mahesh Gk | M | 145 | 87 | 1 | 1 |
| 12A02 | Avijit Das | M | 138 | 82.8 | 2 | 2 |
| 12B03 | Arun Singh | M | 126 | 75.6 | 3 | 3 |
| 12B01 | Vivek Namboodiripad | M | 120 | 72 | 4 | 4 |
| 12B04 | Manoj Nag | M | 114 | 68.4 | 5 | 5 |
| 12B05 | Kalpna Nag | F | 100 | 60 | 1 | 6 |
| 12A01 | Chirag D Jain | M | – | – | DNS | DNS |
06 Hrs
| Bib No | Name | Gender | Laps | Distance (Kms) | Category Rank | Overall Rank |
| --- | --- | --- | --- | --- | --- | --- |
| 6A02 | Charudutt Mishra | M | 114 | 68.4 | 1 | 1 |
| 6B07 | Likhith Shivaprasad | M | 101 | 60.6 | 2 | 2 |
| SPOT1 | Navendu Ayush | M | 85 | 51 | 3 | 3 |
| 6A04 | Manmohan | M | 82 | 49.2 | 4 | 4 |
| 6B08 | Yashas Chakole | M | 81 | 48.6 | 5 | 5 |
| 6A03 | Shamala | F | 81 | 48.6 | 1 | 5 |
| 6C02 | Nitin Misra | M | 76 | 45.6 | 6 | 7 |
| 6B02 | Anuj Bansal | M | 74 | 44.4 | 7 | 8 |
| 6B03 | SURIYAPRAKASH C | M | 71 | 42.6 | 8 | 9 |
| 6B06 | Santhosh Naganathan | M | 68 | 40.8 | 9 | 10 |
| 6B05 | D Kalaianban | M | 53 | 31.8 | 10 | 11 |
| 6B04 | K Sai Karthik | M | 44 | 26.4 | 11 | 12 |
| 6C01 | LALIT KUMAR AGARWALLA | M | 42 | 25.2 | 12 | 13 |
| 6A01 | Nagaraj K | M | – | – | DNS | DNS |
03 Hrs
| Bib No | Name | Gender | Laps | Distance (Kms) | Category Rank | Overall Rank |
| --- | --- | --- | --- | --- | --- | --- |
| 3B15 | Syed Atif Umar | M | 63 | 37.8 | 1 | 1 |
| 3A18 | Sugourav Goswami | M | 56 | 33.6 | 2 | 2 |
| 3A14 | Aditya S Chikodi | M | 53 | 31.8 | 3 | 3 |
| 3B09 | Karthik Teeglapalli | M | 48 | 28.8 | 4 | 4 |
| 3A15 | Muthanna U M | M | 48 | 28.8 | 5 | 4 |
| 3B16 | Nazia Hasan | F | 48 | 28.8 | 1 | 4 |
| 3C20 | Karthikeyan R | M | 47 | 28.2 | 6 | 7 |
| 3A01 | Ashwin Kumar Natarajan | M | 46 | 27.6 | 7 | 8 |
| 3A17 | Sreejith Govindan | M | 46 | 27.6 | 8 | 8 |
| 3A22 | Shreyas Bhagavath Devasya | M | 46 | 27.6 | 9 | 8 |
| 3A23 | Renjith S Raj | M | 46 | 27.6 | 10 | 8 |
| 3B17 | Ramendra Singh Jhinkwan | M | 46 | 27.6 | 11 | 8 |
| 3A06 | Madhu Kaushik | M | 45 | 27 | 12 | 13 |
| 3A13 | Janhavi Rajan | F | 43 | 25.8 | 2 | 14 |
| 3B05 | Nagendra | M | 42 | 25.2 | 13 | 15 |
| 3B04 | Sanath Kumar S Adiga | M | 41 | 24.6 | 14 | 16 |
| 3B18 | Richa Jhinkwan | F | 37 | 22.2 | 3 | 17 |
| 3B20 | Latha Sambashiva | F | 37 | 22.2 | 4 | 18 |
| 3B10 | Dilip Mohan | M | 36 | 21.6 | 15 | 19 |
| 3B03 | Suraj Kumar | M | 35 | 21 | 16 | 20 |
| 3B11 | Karthikeyan YR | M | 35 | 21 | 17 | 20 |
| 3A24 | Shikha | F | 35 | 21 | 5 | 20 |
| 3A20 | Amulya Acharya | F | 34 | 20.4 | 6 | 23 |
| 3A19 | Amogha Acharya | M | 33 | 19.8 | 18 | 24 |
| 3B21 | Aditya Deshpande | M | 32 | 19.2 | 19 | 25 |
| 3A21 | Mamatha Acharya | F | 32 | 19.2 | 7 | 25 |
| 3A07 | Nilesh Deshpande | M | 31 | 18.6 | 20 | 27 |
| 3B13 | Kavitha V | F | 30 | 18 | 8 | 28 |
| 3A09 | Palvi Deshpande | F | 30 | 18 | 9 | 28 |
| 3A08 | Neha Deshpande | F | 27 | 16.2 | 10 | 30 |
| SPOT2 | Aditi Seshadri | F | 27 | 16.2 | 11 | 30 |
| 3B08 | Aparajita Datta | F | 24 | 14.4 | 12 | 32 |
| SPOT3 | Andal Seshadri | F | 22 | 13.2 | 13 | 33 |
| 3A02 | Ramasubramanian Sundararajan | M | – | – | DNS | DNS |
| 3A03 | Bhawana Soni | F | – | – | DNS | DNS |
| 3A04 | Siddharth Mehndiratta | M | – | – | DNS | DNS |
| 3A05 | Karun Kumar | M | – | – | DNS | DNS |
| 3A11 | Vallabh | M | – | – | DNS | DNS |
| 3A12 | Umang Agarwal | M | – | – | DNS | DNS |
| 3A16 | Shashank Nadig | M | – | – | DNS | DNS |
| 3B02 | Shubham Grover | M | – | – | DNS | DNS |
| 3B06 | Shaifali Phogat | F | – | – | DNS | DNS |
| 3B12 | Ravi Mohan Rao | M | – | – | DNS | DNS |
| 3B14 | Aman Chawla | M | – | – | DNS | DNS |
| 3B19 | Vaidyanath Mahadevan | M | – | – | DNS | DNS |
| 3B22 | Sujatha N | F | – | – | DNS | DNS |